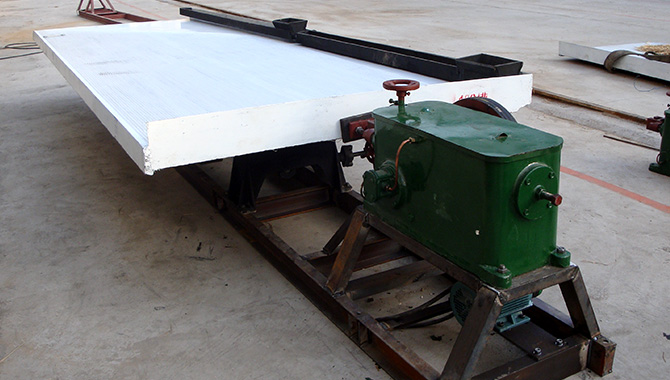 Gold Shaking Table
Online Service Connection < 60s, Email Reply Time < 24h
Processing capacity: 10–60t/d
Feeding size: 0.15–2mm

Chat Online
Feeding thickness: 15–30%
Motor power: 1.1kw
Gold Shaking Table Working Video
Introduction of Gold Shaking Table:
Shaking table separation is the most widely used and the most effective separation equipment in the gravity concentrator. As an independent beneficiation method to use, gold shaking table also can be combined with other beneficiation methods such as flotation and magnetic separation or other beneficiation equipment such as centrifugal separator, spiral concentrator, belt chute, etc.
Nowadays gold shaking table has been widely used in the beneficiation of rare metals and precious metal ores, such as tungsten, tin, quintal and ingot-shaped tablet, moreover, gold concentrator table is also available for iron and manganese ore and the beneficiation of nonferrous metals before flotation separation. According to some statistics, about 30%-80% ore concentrate is screened by shaking table. The feed particle size of tungsten and tin is 2-0.037mm and the minimum feed particle size of sludge shaking table is 0.019mm. In the production practice, combined with other equipment, the shaking table for gold is used in the recycling of fine mineral with 37 micrometers.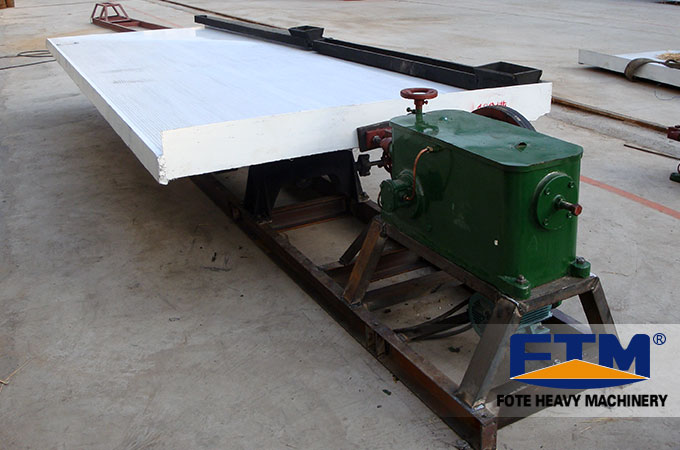 Advantages of Shaking Table Beneficiation
1. The maximum beneficiation concentration ratio can attain more than 300 times;
2. Final concentrate and discarded tailing can be obtained through one time separation;
3. Multiple products can be gained at one time according to your needs;
4. Obvious mineral zoning in the table surface contributes to the convenient adjustment, observation and receive.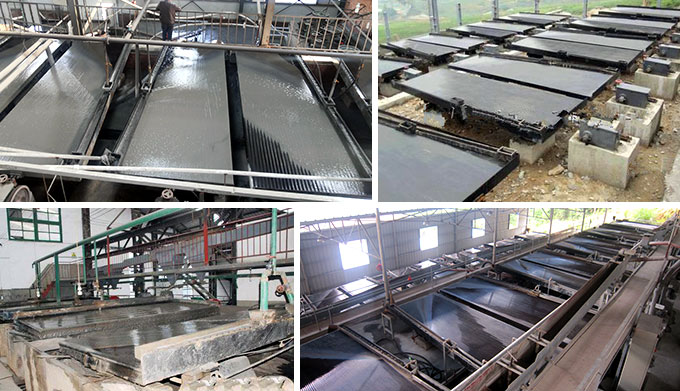 Main weaknesses of the gold concentrator table are relatively lower handling ability unit area and big factory area. The maximum handling ability of coarse sand is no more than 5 tons one hour of per square meter table surface; only about 0.5ton minuteness mud per hour is available. Do you want to know shaker table for gold price? Please no hesitate to choose Fote machinery.
Contact us
Our sales team is available to respond to any queries you might have on Fote. Get in touch using the details below:
High and New Industrial Zone, Kexue Revenue, ZhengZhou, China.
Technical Data


Name
Grit
concentrator
table
Fine sand
concentrator
table
Sludge
concentrator
table
Bed surface
Dimensions
Length
(mm)
4450
4450
4450
Driving
part Width
(mm)
1855
1855
1855
Concentrate
part Width
(mm)
1546
1546
1546
Max.feeding
size(mm)
2
0.5
0.15
Feeding
amount
(t/d)
30-60
10-20
15-25
Feeding
thickness
(%)
25-30
20-25
15-25
Stroke
(mm)
16-22
11-16
8-16
Frequency
(f)
45-48
48-53
50-57
Bed surface
Water quantity
(t/d)
80-150
30-60
10-17
Bed surface
Horizontal
obliquity(°)
2.5-4.5
1.5-3.5
1-2
Bed surface
Portrait
obliquity(%)
1.4
0.92
----
Table board
corner(°)
32-42
40
42
Concentrating
area(㎡)
7.6
7.6
7.6
Bed surface
Length ratio
2.6
2.6
2.6
Shape of
side-bed
surface
Rectangle
Zigzag
Triangle
Motor
power(kw)
1.1
1.1
1.1
Transmission
device
Eccentricity Linkage
Name
Max.feeding
size(mm)
Bed surface
Water quantity
(t/d)
Grit
concentrator
table
2
80-150
Fine sand
concentrator
table
0.5
30-60
Sludge
concentrator
table
0.15
10-17
Our Customer
FTM has equipment installed throughout the world in are as such as South Africa, Middle East, West Asia,India, Philippines, Western Europe, Southeastern Asia.
Service Surpport
Whatever your requirements, you 'll find the perfect service-oriented solution to match your specific needs with our help.
30 seconds for connecting customer service

30 minutes for getting technical answer

24 hours for getting free solution plan
TOP
Copyright© 2018 Fote Heavy Machinery. All rights reserved.
Privacy Policy