Dolomite grinding processing includes coarse powder processing (0-33meshes), fine powder processing (20meshes-400 meshes), super fine powder processing (400meshes-1250meshes) and micro-powder processing (1250meshes-3250meshes). As the direct processing equipment, the property and processing effect of dolomite mill has an immediate impact on the later application effect and application fields. Therefore, the right equipment choice of the whole dolomite grinding mill plant is necessary.
Dolomite Grinding Technical Flow Process
Powder grinding plant is generally composed of jaw crusher, bucket elevator, electro-vibrating feeder, mainframe and auxiliary engine of grinding mill, draught fan, dust-removing equipment, centralized electronic control and other equipment.
1. Large blokes of materials crushed by jaw crusher are lifted to storage silo by bucket elevator.
2. Electro-vibrating feeder uniformly, quantificationally and continuously sends materials to grinding chamber for grinding work. The grinded powder is sent into powder concentrator for separation with the help of air blower.
3. After the separation, unqualified powders are sent to grinding chamber for further grinding. Then the pipeline sends the qualified fine powders to storage silo. At last, qualified powders will be output from the discharge gate and these are finished powder materials.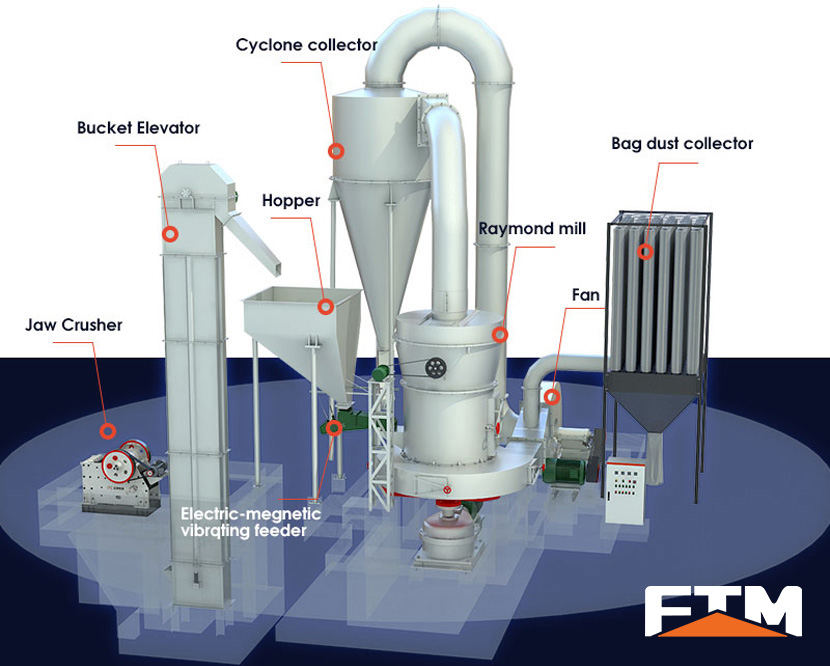 FTM has equipment installed throughout the world in are as such as South Africa, Middle East, West Asia,India, Philippines, Western Europe, Southeastern Asia.