Also called as building plaster, calcined gypsum or plaster, gypsum is a kind of broad-spectrum industry material and building material. Gypsum is widely used in the cement retarder, gypsum construction products, model making, medical food additives, sulfuric acid production, paper packing and paint filler sections.

According to the different application fields, gypsum powder making machine is mainly divided into building gypsum grinding mill and desulfurization gypsum grinding mill. There are 4 types gypsum powder; respectively they are coarse powder processing (0-33meshes), fine powder processing (20meshes-400 meshes), super fine powder processing (400meshes-1250meshes) and micro-powder processing (1250meshes-3250meshes)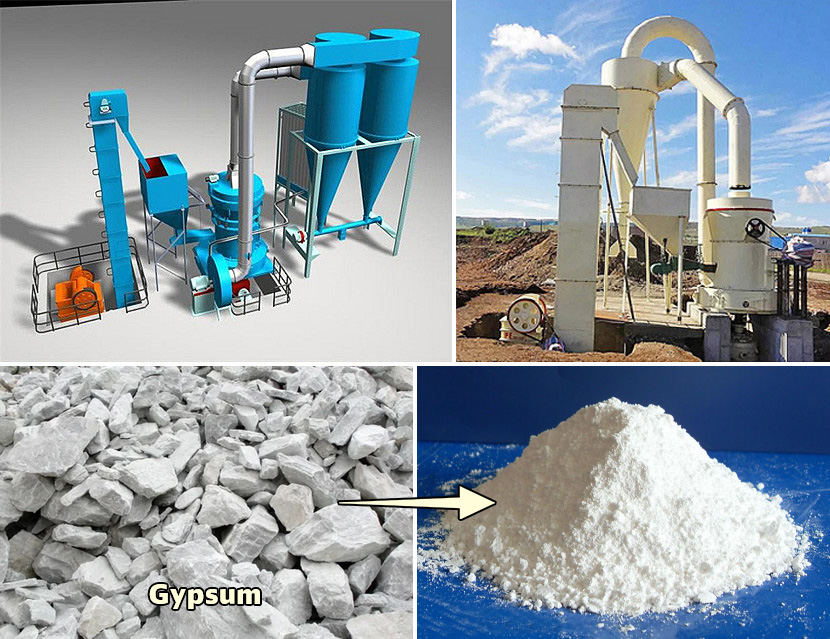 Equipment Composition of Gypsum Grinding Plant
Complete grinding plant equipment includes crushing machine, elevator, stock bin, feeding machine, grinding machine main engine, integrator, dust collector, air compressor, draught fan, sound proof chamber, powder concentrator and so on. From the materials crushing, elevating to grinding, the whole process is accomplished by the complete set of equipment. Fote machinery designs and produces dozens of production plants of which the desulfurization gypsum grinding plant is an advanced one. According to the different customers' needs, Fote machinery has multi-craft production lines to order.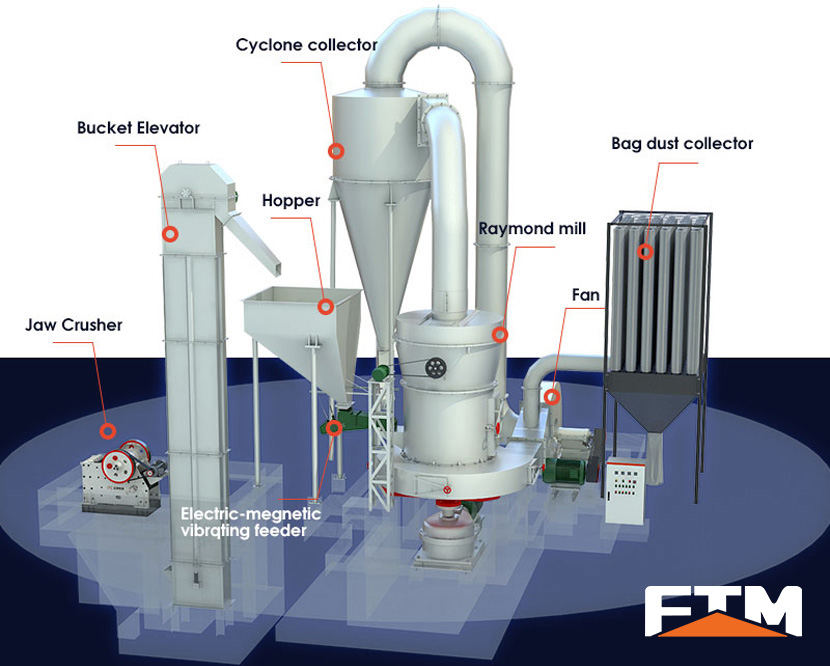 Property Features of Gypsum Grinding Mill
1. High Efficiency, Energy Conservation and Environment Protection
Fote machinery provides total solution including crushing, grinding, screening, packaging and processing integration design, supply, construction and service. Special dust separator largely reduces the dust discharge capacity and 99.99% dust removal effect has been achieved. Gypsum grinding mill has advantages of low running noise and small machine vibration.
2. Multi-Purpose and Economic Investment
Gypsum grinding mill has advantages of small floor area, low investment cost and free need to change any components. One machine can meet needs of different materials and varying finished product sizes.
3. Simple Operation and Reliable Running
Equipped with automatic control system and high automatic degree, the gypsum powder making machine can achieve the long-range control operation.
4. Stable Final Product Quality
With strengths of high grinding rate, flour extraction rate, and uniform finished product size, the final product of the gypsum powder making machine is stable and reliable.
FTM has equipment installed throughout the world in are as such as South Africa, Middle East, West Asia,India, Philippines, Western Europe, Southeastern Asia.