As a kind of nonmetal mineral, kaolin is widely used in the paper making, ceramic, rubber, chemical, painting, medical and other fields as the mineral raw material. There are 2 application fields in paper making industry; respectively they are the filler in the paper making process and the paintings in the surface coating process.

Brief Introduction of Kaolin Grinding Mill
Finish fineness of kaolin is 325 meshes - 3000meshes. Kaolin grinding mill is also used in the super fine powder process of less the 6 mohs hardness stone materials such as calcite, barite, dolomite and shale.
Main common problems in the kaolin grinding process are not fine enough kaolin powder particle size and not ideal kaolin powder passing rate. Aiming at the above-mentioned problems, let technical personnel of Fote machinery help you. Kaolin Raymond grinding mill of Fote machinery is your right choice.
Kaolin Processing Plant and Applications
1. Crushing. Kaolin crusher is the main crushing equipment.
2. Grinding. Using the raymond grinding mill and high pressure grinding mill to make the grinding processing. Fineness degree of the grinded productions includes 100 meshes, 200 meshes, 300 meshes and 400 meshes.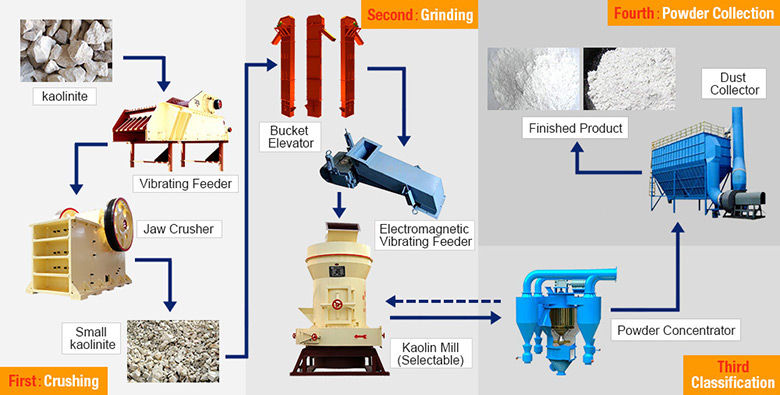 3. Calcination. The calcination of kaolin can add its white degree. The lower grade kaolin will be calcined after its washing purification.
To gain the high purity and quality production from the kaolin raw material with moisture content and impurity, Henan Fote heavy machinery will make different kaolin processing plants and kaolin powder making plant according the varying customers' need. Auxiliary equipment such as dryer, magnetic separator and packing machine is necessary in some kaolin processing plant.
FTM has equipment installed throughout the world in are as such as South Africa, Middle East, West Asia,India, Philippines, Western Europe, Southeastern Asia.