Quartz whose ingredient is silicon dioxide has the 7 mohs hardness. Quartz has the stable chemical and physical property of brittleness, pyroelectricity and piezoelectricity. The fused quartz can be used to produce optical instrument, glasses, glass and other glass products. The processed quartz can serve as the industry raw materials in the ceramic, refractory, abrasive materials, metallurgy, construction, chemical, spaceflight and other industry field.

Quartz Stone Grinding Mill
Quartz grinding processing includes coarse powder processing (0-33meshes), fine powder processing (20meshes-400 meshes), super fine powder processing (400meshes-1250meshes) and micro-powder processing (1250meshes-2000meshes). As the direct processing equipment, the property and processing effect of quartz mill has an immediate impact on the later application effect and application fields. Therefore, the right equipment choice of the whole quartz grinding mill plant is necessary.
To satisfy the current processing needs of quartz powder, Fote heavy machinery develops a kind of quartz stone grinding mill that has the high efficiency and high production capacity, which can meet the needs of scale production, low consumption , energy saving and environmental protection. The comprehensive index of the quartz grinding mill for sale is superior to other ball mill and screener production process. With all the advantages, the quartz stone grinding mill can satisfy the high-class quartz powder market needs.
Quartz Stone Grinding Plant
We can provide you with a single quartz mill machine or a quartz powder production line (from quartz crushing, grinding to classify) to according to your different need.
Powder grinding plant working porcess is: Raw material (large quartz stone) ------ quartz crusher------ bucket elevator------ raw material bin------ electro-vibrating feeder------raymond grinding mill------ powder packing machine
1. Large blokes of materials crushed by jaw crusher are lifted to storage silo by bucket elevator.
2. Electro-vibrating feeder uniformly, quantificationally and continuously sends materials to grinding chamber for grinding work. The grinded powder is sent into powder concentrator for separation with the help of air blower.
3. After the separation, unqualified powders are sent to grinding chamber for further grinding. Then the pipeline sends the qualified fine powders to storage silo. At last, qualified powders will be output from the discharge gate and these are finished powder materials.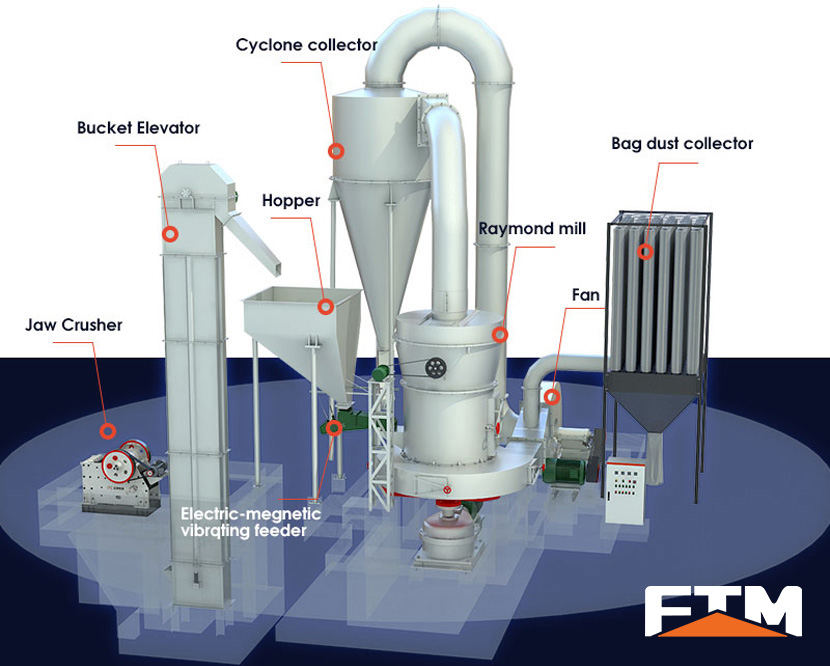 The finished production fineness of quartz stone grinding mill is up to 80 mesh, 0.074mm, 0.3mm, 45 micron, 325meshes and 1000 meshes etc. or even higher fineness. The quartz grinding mill is widely used in the glass, casting, ceramic, refractory materials, metallurgy, construction, chemical, plastic, rubber, abrasive materials and other industry fields.
Henan Fote heavy machinery can not only provide the quartzite powder making plant with multi choice, proper configuration, reliable quality and high cost performance, but also the whole design and construction scheme of grinding process and the turnkey project of the grinding field.
FTM has equipment installed throughout the world in are as such as South Africa, Middle East, West Asia,India, Philippines, Western Europe, Southeastern Asia.