Categories of Crawler Mobile Crusher
Main crushing equipment of crawler mobile crusher consists of jaw crusher, impact crusher and cone crusher. There are 3 series of tracked mobile crushers in total; respectively they are: tracked mobile Jaw crusher, tracked mobile impact crusher and tracked mobile cone crusher.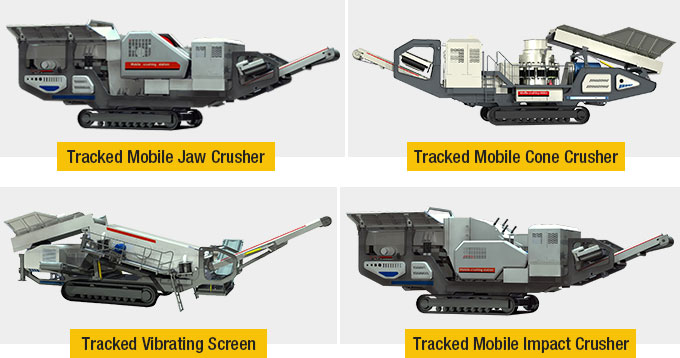 Applications of Crawler Mobile Crusher
1. Mobile screening and crushing equipment has multi functions;
2. It is widely used in mining site of coal and cement industry for the coarse crushing of tough materials;
3. It applies for the recycling use of construction waste, earth and rock engineering, urban infrastructure, road or construction site and so on;
4. It can be used to deal with topsoil and separate viscosity concrete aggregate. Construction and blasting industry, quarrying industry and screening of crushed materials are also available;
5. What's more, tracked mobile crusher is suitable for the stripping crushing of cement concrete road and regeneration crushing of bituminous concrete.
Extended Functions
Interchange System of Jaw Crusher, Impact Crusher and Cone Crusher

What you need invest is just the single equipment cost. In a short time, it realizes the interchange of different crushing units in the mining working site. The perfect match between the whole systems, wider application ranges and more comprehensive crushing functions all maximize the customers' benefits.