As the raw material of calcium carbonate, calcite is the wide distribution calcite mineral. Compared with other calcium materials, such as limestone and marble, calcite has advantages of fewer impurities, lower production costs. Therefore, the market prospect of the calcite is brighter. Calcite with the 3 mohs hardness belongs to the easy grinding mineral.

To make full use of the calcite, grinding and further processing are necessary. Processed calcite serves in varying industries. Calcite crusher and calcite grinding mill are respectively used in the first production stage and the second production stage of the calcite processing plant. The crushed material with proper particle size will be sent to calcite grinding mill for grinding processing.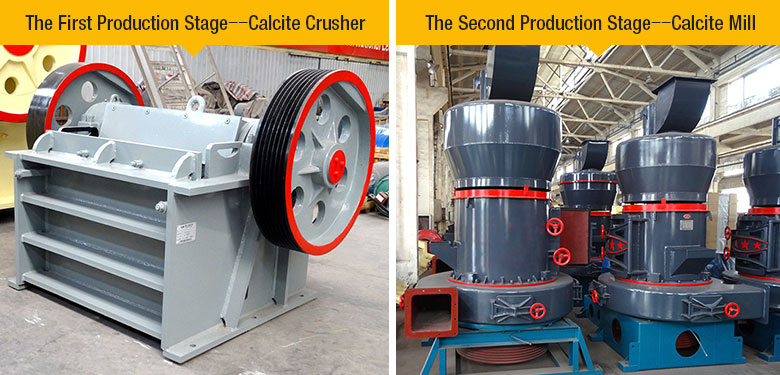 With needs of high finished products meshes and fine particle size, calcite grinding machine is generally superfine grinding mill. To find the proper and suitable grinding equipment, confirming the finished products particle size and production capacity is the first thing to consider before your purchasing.
Calcite Powder Making Plant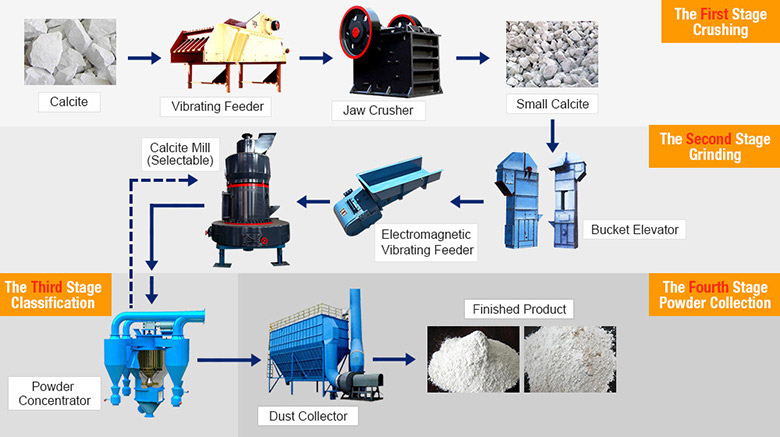 Generally the calcite powder making plant consists of jaw crusher, bucket elevator, electro-vibrating feeder, main engine of grinding mill, powder concentrator, auxiliary engine, draught fan, centralized control and other equipment. Optional configuration of coarse powder grinding mill, Raymond grinding mill, high pressure grinding mill and superfine grinding mill is feasible in the calcite powder making plant according to the different customers' needs. Fote heavy machinery can effectively provide the whole design and construction scheme of grinding processing plant and the turnkey project of grinding field. Calcite powder making plant also suitable for grinding process of other minerals, such as barite, calcite, potassium, feldspar, marble, granite, limestone, basalt.
FTM has equipment installed throughout the world in are as such as South Africa, Middle East, West Asia,India, Philippines, Western Europe, Southeastern Asia.