The barite grinding fine powder can be used as the heavy agent of drilling mud and the crushing barite lump is the stone replacement of anti-radiation gravity wall materials. It can also serve as white pigment, painting, filler of rubber industry and paper-making industry, chemical medicine and so on.

Barite grinding mill is the grinding machine to grind the large barite stone to powder dust such as 80 mesh, 200 mesh, 300 mesh, 800 mesh, 45 micron, 200 micron, 0.074mm, etc. Barite mill is widely used in metallurgy, building materials, chemical and mining industries for grinding materials such as calcite, limestone, dolomite, bentonite, etc.
We supply different capacity barite mill to save your costs and maximize your benefits. We customize small capacity barite milling machine for small scale miner, such as 1 tph, 3 tph, 5 ton per hour, etc. We also provide large and medium capacity grinding plant for large mining company, such as 30 tph, 50 ton per hour, 100-200 tph, etc.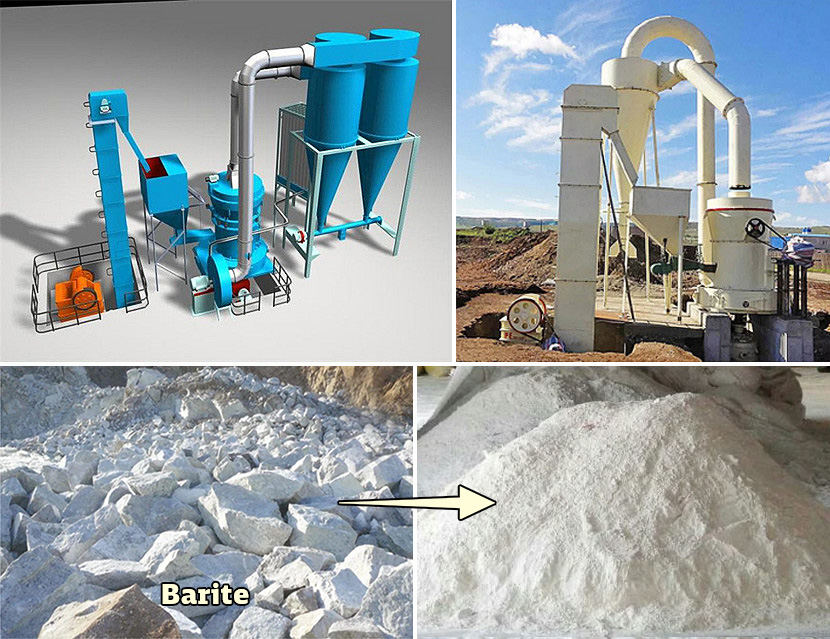 Grinding Equipment Used in Barite Processing
1. Raymond grinding mill: with the discretionary adjusted fineness, its general processing fineness is between 15 meshes and 425meshes.
2. HGM super fine grinding mill: with the discretionary adjusted fineness, its general processing fineness is between325 meshes and 2000meshes.

Barite Grinding Mill Plant Flow
We can provide you with a single barite mill machine or a barite powder production line according to your different need.
Powder grinding plant working porcess is: Raw material (block-shaped barite) ------ barite crusher------ bucket elevator------ raw material bin------ electro-vibrating feeder------raymond grinding mill------ powder packing machine
1. Large blokes of materials crushed by jaw crusher are lifted to storage silo by bucket elevator.
2. Electro-vibrating feeder uniformly, quantificationally and continuously sends materials to grinding chamber for grinding work. The grinded powder is sent into powder concentrator for separation with the help of air blower.
3. After the separation, unqualified powders are sent to grinding chamber for further grinding. Then the pipeline sends the qualified fine powders to storage silo. At last, qualified powders will be output from the discharge gate and these are finished powder materials.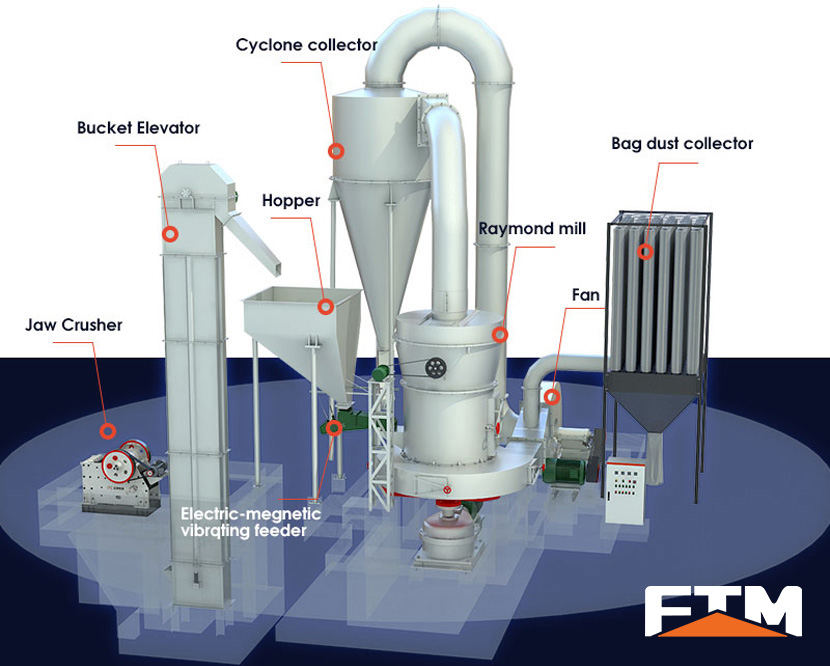 Property Advantages of Barite Mill
1. Low Dust Rate
The closed circulating ash system and circular flow of pressure and vacuum statue reduce the dust producing rate.
2. Durable Component
Made of super quality steel of important component and wear-resistant material, the barite grinding mill is durable and reliable.
3. High Finished Product Ratio
Unsurpassable new design idea help produce uniform finished product whose sieve passing rate is 99%.
4. Unmanned Operation
With the intelligent and centralized control electrical system, ultrafine grinding machine workshop can basically realize unmanned operation. Its repair is also convenient.
FTM has equipment installed throughout the world in are as such as South Africa, Middle East, West Asia,India, Philippines, Western Europe, Southeastern Asia.