Copper ore is the main raw material of refined copper and copper product processing. The copper ore concentrates are selected through the flow of crushing and screening, grinding, flotation separation and drying. As the essential raw material in the national economic department and the national lives, copper ore is widely used in the electrical industry, light industry, machine manufacturing, construction and national defense industry.
Copper Ore Crusher
Before the purchasing of copper ore crushes, you need make an investigation to the situation of ore processing plant and choose the suitable crushing machine according to the features of the copper ore. For example, with the 3 mohs hardness and high corrosion resistance, the processing of copper ore can use crushers suitable for metal ore, such as jaw crusher series and hydraulic cone crusher series.

Certainly, it is not enough to turn the copper ore to the truth copper product only through crushing. To gain the high quality copper concentrate, the copper ore need experience the process of grinding, flotation and drying. The processed copper ore is the main raw material of metallurgical industry.
Copper Ore Processing Plant
Copper ore beneficiation is a process to extract copper from raw ores. The main copper ore beneficiation equipments are including: jaw crusher, cone crusher, vibrating screen, ball mill, spiral classifier, flotation machine, vibrating feeder, agitation tank and belt conveyor etc.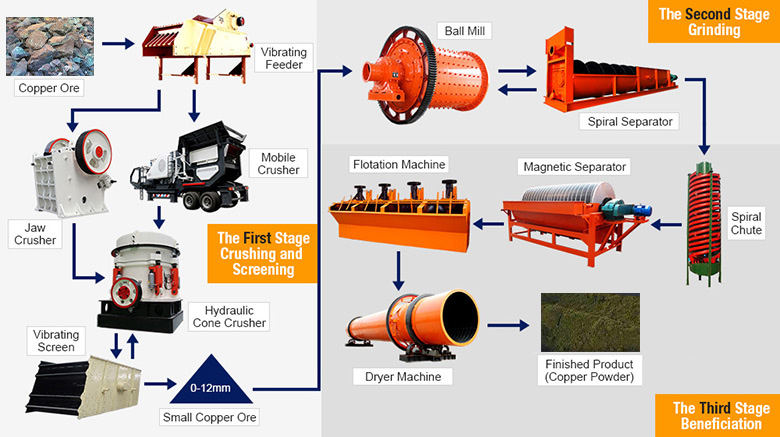 Copper Ore Crushing Plant
The copper ore crushing plant consists of vibrating feeder, jaw crusher, conveyor belt, cone crusher and circular vibrating screen. In accordance with the copper ore enrichment amount and associated ore, customers can choose different models machines to assemble.
As a professional copper ore processing plant manufacturer, Fote Machinery provides complete set of copper ore processing equipment for the specific needs of our customers. Having been committed to the development and research of copper ore processing craft for many years, we constantly develop the superior copper ore beneficiation equipment with a high cost performance and continually design the new beneficiation craft flow.
FTM has equipment installed throughout the world in are as such as South Africa, Middle East, West Asia,India, Philippines, Western Europe, Southeastern Asia.