Brief Introduction of Basalt
Basalt with the color of black, dark gray and dark brown is a common basic volcanic rock mineral. With advantages of good corrosion resistance, compression resistance and oxidation resistance, basalt is widely used in roads, railways, construction, building materials, chemicals, light industry and other industrial fields.
According to the survey of Fote Machinery, basalt processing production line can make full use of the basalt advantages and maximize the comprehensive recovery and utilization rate of basalt. Brief Introduction of Basalt Processing Production Line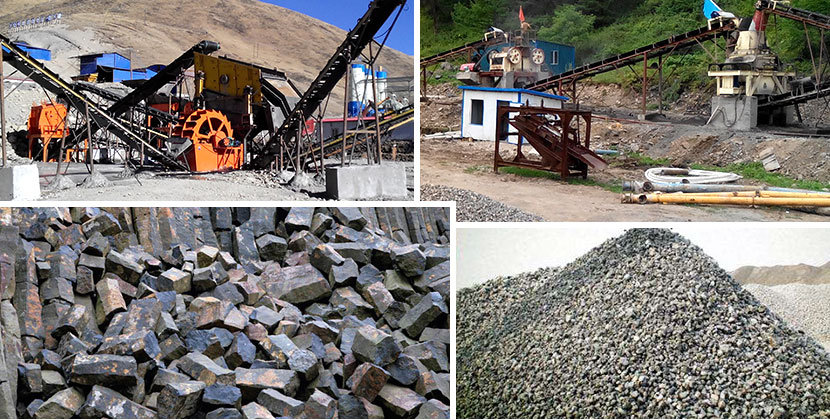 Basalt crusher production line whose production capacity is 30-700t/h is composed of vibration feeder, jaw crusher, cone crusher, sand maker, vibrating screen, sand washer and belt conveyor. Fote Machinery will design specific processing production line according to the different production conditions.
Production Process of Basalt Crushing Plant
1. Coarse crushing: large blocks of basalts are uniformly sent into jaw crusher by the vibration feeder for primary crushing;
2. Medium crushing: coarse crushed basalt was sent to the cone crusher for secondary crushing by the belt conveyor;
3. Screening: medium crushed basalt materials fall into belt conveyor and then are conveyed into screening machine for the necessary screening classification;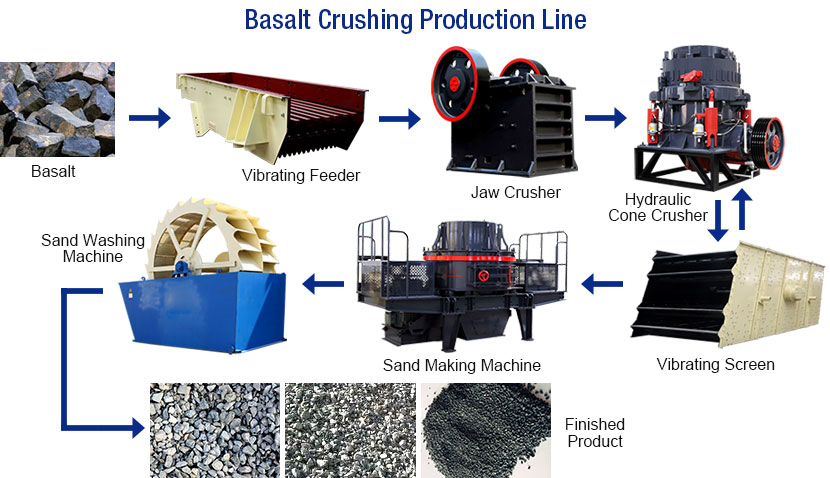 4. Sand washing stage: qualified basalt materials are sent into sand washer for cleaning process. Then the cleaned materials are sent to the finished products warehouse;
5. Fine crushing: unqualified basalt materials are conveyed to sand maker for fine crushing process. Then vibrating screen make a screening operation.
Strengths of Basalt Processing Production Line
Basalt processing production line of Fote Machinery is designed by our most professional development group through the introduction of advanced production technology and mature design experience at home and abroad.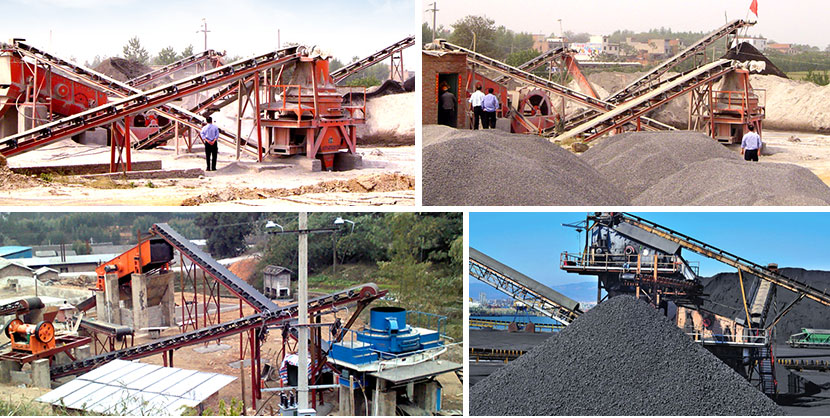 1. The basalt processing production line save a lot of infrastructure costs because of its simple processing production line and small space.
2. Service life is 3-5 times extension than the common equipment on the market.
3. Low energy consumption and failure rate guarantee its one-third production costs of the ordinary basalt production line.
4. Advanced unique dust muffler device ensures its dust-free and noise-free operation.
Fote Machinery has the basalt processing production line for sale. To get the price list, please send an email to info@sinoftm.com.
FTM has equipment installed throughout the world in are as such as South Africa, Middle East, West Asia,India, Philippines, Western Europe, Southeastern Asia.