Equipped with vibrator feeder, jaw crusher, sand maker (vertical shaft impact crusher), vibrating screen, sand washer, belt conveyor and central electronic control, sand making plant can process the granite, limestone, basalt, cobble and other materials to construction sands. In accordance with varying craft demand, Fote Machinery can assemble different types of equipment to satisfy our customers' needs.
Technological Process of Sand Crusher Plant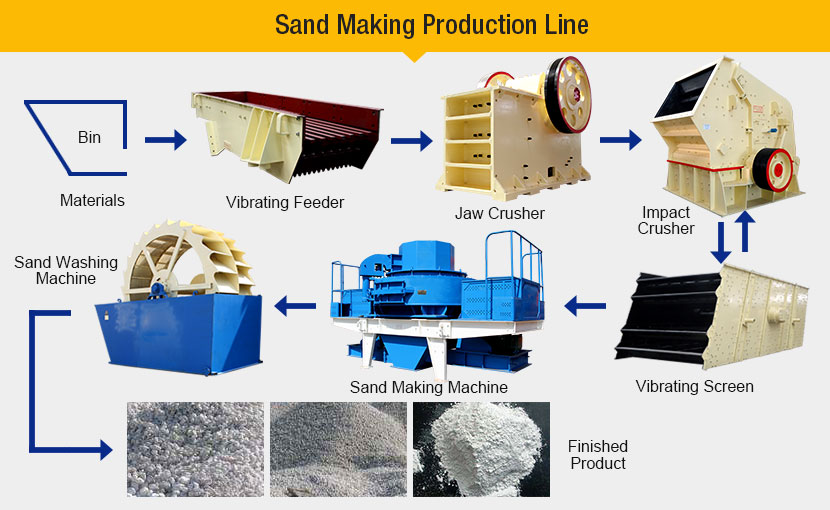 Firstly, the coarse crushing machine makes a preliminary crushing for the stone materials. The belt conveyor sends the coarse materials to fine crushing machine for further crushing. The fine crushed materials are divided to 2 kinds of gravels in the vibrating screen. Gravels meeting the feed particle size are sent into sand maker and unqualified parts of gravels are sent into crushing again. Parts of materials in the sand maker are produced to sand which will be washed into finished production sand by sand washer and another part of materials are sent into crushing again.
Property Advantages of Sand Making Plant
Sand production line is widely used in mining, metallurgy, building material, roads, railways, chemical, stone material factory and other sectors. The production ability of sand making plant varies from 50t/h to 500t/h and the finished product size can be combined and classified according to different customers' needs. There are 3 property advantages of the sand making plant.
1. Compared with other production line, equipment in the sand making plant has a convenient and simple maintenance, repair and running way. Made of the domestic latest high strength wear resistant materials, the sand making line has less wastage and longer usage life, which brings considerable economic benefits for customers.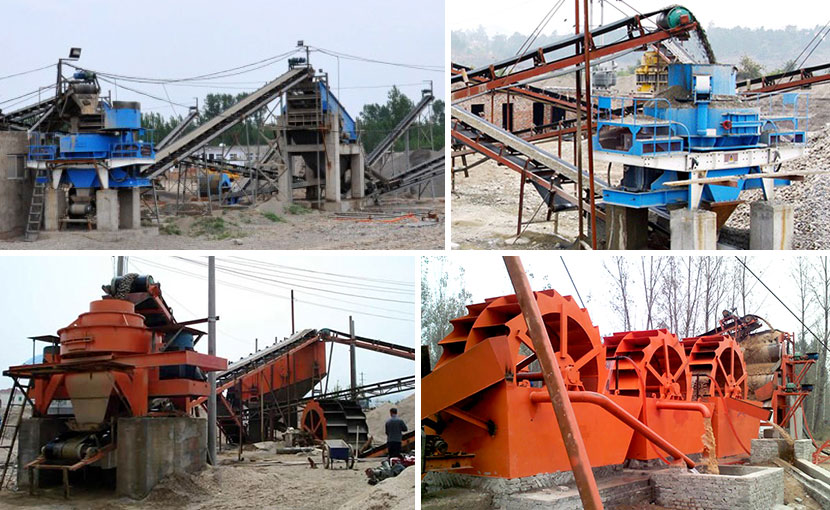 2. The sand making plant has advantages of automatic operation flow, higher production efficiency and better working efficiency, large crushing rate, cubic crushed production, no inner facture and high compressive strength.
3. It is successfully applied for crushing and processing of limestone, basalt stone, granite, and pebbles. Quality of the crushed materials is completely up to the GB14685-2001 standard, which provides qualified aggregates for highway, railway, water conservation, concrete batching plant and other industries.
With the sand crusher plant for sale all the year round, Fote Machinery is your most advisable choice. Now send an email to info@sinoftm.com and you will get the sand production line price list.
FTM has equipment installed throughout the world in are as such as South Africa, Middle East, West Asia,India, Philippines, Western Europe, Southeastern Asia.